National MS Society
Barbecue
Will be held on April 2nd & 3rd
Friday 11-7 & Saturday 11-7
In Sams Club parking lot
At Forest Drive & I-77
Minimum $7.00 donation
For a plate of Pork or Chicken BBQ
100 % of proceeds go to MS Society
Upcoming Events:
SETTING THE WORK
Pacific's Calendar
March 2 - Regular Communication, Meet at 7:30, after business work
April 2 & 3 - Annual MS Bar-B-Que at Wal-Mart
April 6 - Regular Communication, Meet at 7:30
April 21 - Annual Grand Lodge Golf Tourney (call 864-503-1804)
April 22-23 - Annual Grand Lodge Communication - Spartanburg Marriott on Church Street.
For other area Lodge meeting information, click HERE.
For list of service pins awarded in 2002, please click
here
.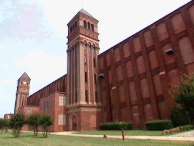 Olympia Mill - Historic Landmark of the Community
The next meeting of the Square and Compass Club of the Midlands will be at 11:00 at the Grand Lodge Building on Saturday, January 24. ALL Master Masons are invited to join. Please check back for more information. Click
HERE
for more information.
2004 Officers Elected
W.M. - DuBose R. "Bosie" Martin
S.W. - Carl "Buster" Yandle
J.W. - Paul Martin, P.M.
SEC. - Doyle Jaco, Jr., P.M.
TREAS. - Jim Jaco
S.D. - Joey Jaco
J.D. - Fred Garren
S.S. - Bob Strickland, P.M.
J.S. - Larry Crowe
Chaplain - Ed Gunter, P.M.
Tiler - Danny Able, P.M.
COMMITTEES FOR 2004