History of Our Lodge
History of Pacific - WORD format (.doc)
For a complete history of our Lodge, you can download it in Word format by clicking above.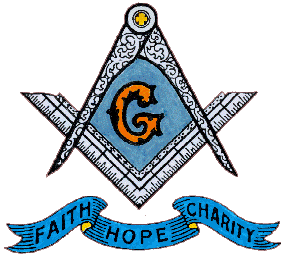 Our Charter
Following is a copy of the petition submitted to the Grand Lodge for dispensation in lieu of a charter:
TO THE MOST WORSHIPFUL GRAND MASTER OF THE GRAND LODGE OF ANCIENT FREE MASONS OF SOUTH CAROLINA:
The petition of the undersigned respectfully showeth that they are regular Free Masons and are at present and have been members of regular Lodges that having the prosperity of the Fraternity at heart, they are willing to exert their best endeavors to promote and diffuse the genuine principles of Free Masonry, that for the convenience of their respective dwellings and for sufficient reasons they have agreed to form a new Lodge, that in consequence of this resolution they pray the Most Worshipful Grand Master for a dispensation to empower them to assemble as a regular Lodge at Columbia, in the County of Richland and there discharge the duties of Free Masonry in a regular and Constitutional manner, according to the ancient usage of the order, and rules and regulations of the Grand Lodge of Ancient Free Masons of South Carolina; that they have nominated and do recognize Brother Irving South worth to be the first Master, and Brother J. O. Corn to be the first Senior Warden and Brother W. P. Hamrick to be the first Junior Warden.
COMING SOON: Photograph of our Charter.



Our Officers for 2002
Edward Neeley, W.M.
Danny Able, P.M., S.W.
Paul Martin, P.M., J.W.
Doyle Jaco, P.M., Secretary
Jim Jaco, Treasurer
Bosie Martin, S.D.
Buster Yandle, J.D.
Bob Strickland, P.M., S.S.
Larry Crowe, J.S.
Ed Gunter, P.M., Chaplain
Jerry Youngblood, Tyler

Masonic Education Corner
Wages Of A Master Mason
The operative Mason, in ancient times, received, as compensation for his labor, corn, wine, and oil--the products of the earth--or whatever would contribute to his physical comfort and support. His labor being material, his wages were outward and material. The Free and Accepted Mason, on the other hand, performs a moral work, and hence his reward is interior and spiritual. The enlightened brother finds his reward in the grand and gratifying results of his studies, and in the joyful results of his Masonic deeds. Biblical records of expenditures in the erection of the Temple, of payments for wages, and of gifts to the workmen... 1 Kings ,11 - 2 Chr. Copyright 1999 - 2002 Phoenixmasonry, Inc. reprinted with permission
Brother Edward Neeley is our Worshipful Master.